AxCrypt Encryption Software
6 January 2012

I first reviewed AxCrypt encryption software by Axantum way back in 2006. The program has come a long way since then and is definitely still a very commendable addition to any security toolkit. AxCrypt allows Windows users to encrypt files and folders quickly and easily in order to secure their contents. AxCrypt also allows users to create self decrypting (.exe) archives so they can share data with other (Windows) users who don't have the program. Axantum also distributes a stand along decrypter as well as a portable version of the software so that you don't need to install AxCrypt on a machine in order to use it (you can just run the executable from something like a USB thumb drive). You can download AxCrypt from the developer website (http://www.axantum.com/AxCrypt/Downloads.html). The new installer is intended for both 32 and 64 bit architectures, which is nice as users no longer have to figure out which version is right for their machine architecture. Although the AxCrypt installer is now bundled with RealPlayer, to increase revenue for the project according to an e-mail sent by Axantum in January 2011, you can easily skip installation of this software. To install the software simply download the executable and run it.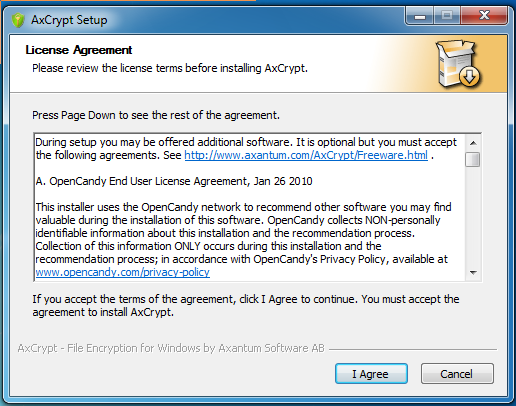 Be sure to opt out of the additional software installation: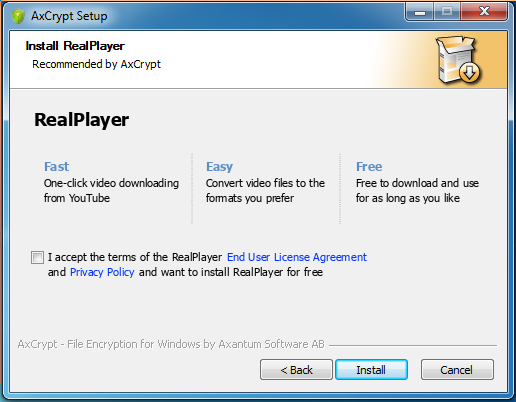 And click the 'Install' button. The installer takes a little while. Once it's done you can start using AxCrypt. To encrypt a document, image, or folder simply right click on it, select 'AxCrypt' then 'Encrypt' from the options.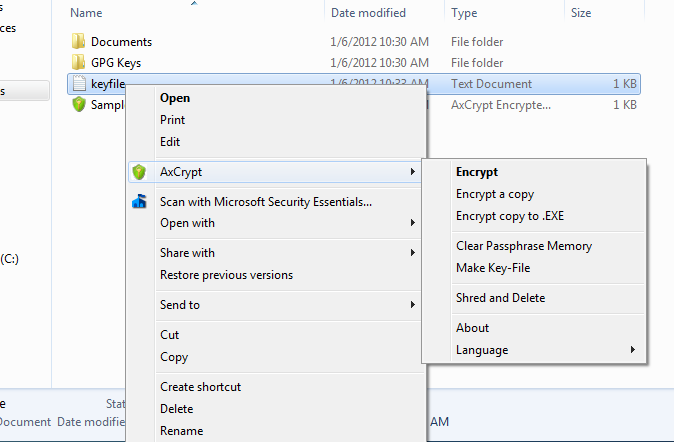 You'll notice that AxCrypt also includes a secure 'Shred and Delete' option that will ensure that the deleted document doesn't end up in the Recycle Bin or survive in slack space. When encrypting an item you can either use a passphrase or a key file. Using a passphrase is useful because it's easy to remember and share a passphrase.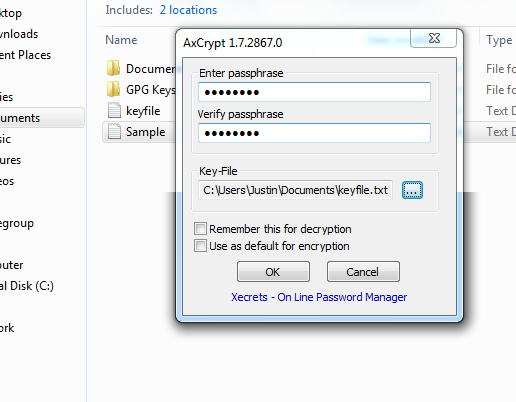 There are two ways to create a key file, you can either make one yourself or you can use the AxCrypt generation program. To use the AxCrypt program simply right click a file or folder, choose AxCrypt, then 'Make Key-File' from the menu. A key file is somewhat more secure because it requires anyone who opens the encrypted material to have a file with specific contents. It's probably a good idea to use both a key file and passphrase if you can. Keeping the key file on a removable thumb drive is a great way to keep the file safe and prevent anyone who compromises your computer from being able to decrypt your AxCrypt files, even if they can guess your password. Creating a self decrypting .exe file is just as easy as normal encryption. This option is good if you need to encrypt a file to distribute it to users without AxCrypt installed (say if you want to e-mail a file) or if you want to be able to decrypt the file on a machine without AxCrypt, such as a file stored on a thumb drive that you access at a public terminal or kiosk.
Conclusion
AxCrypt is dead simple encryption software. It's easy to use and intuitive, which makes it a perfect choice for the average home user. AxCrypt is free open source software, and relies on ad revenue and donations, so feel free to contribute to the project if you enjoy the product.